At Alectro, we're constantly on the lookout for sustainable alternatives to everyday items. This is an opportunity to share the brands that we love and that are making the world a greener place to live.
Bare Kind is on a mission to allow everybody in the world to make an impact choice when purchasing their socks. When you buy Bare Kind socks, you're supporting the conservation of an animal species - 10% of the profits are donated to help save the animal on your socks.
Bare Kind isn't just supporting animals conservation around the world, but they're also teaching people about animals that you may not have even heard about before.
We caught up with Lucy Jeffrey, Founder of Bare Kind, to find out why she started her business, what makes her socks so unique, and what Bare Kind has planned for 2022.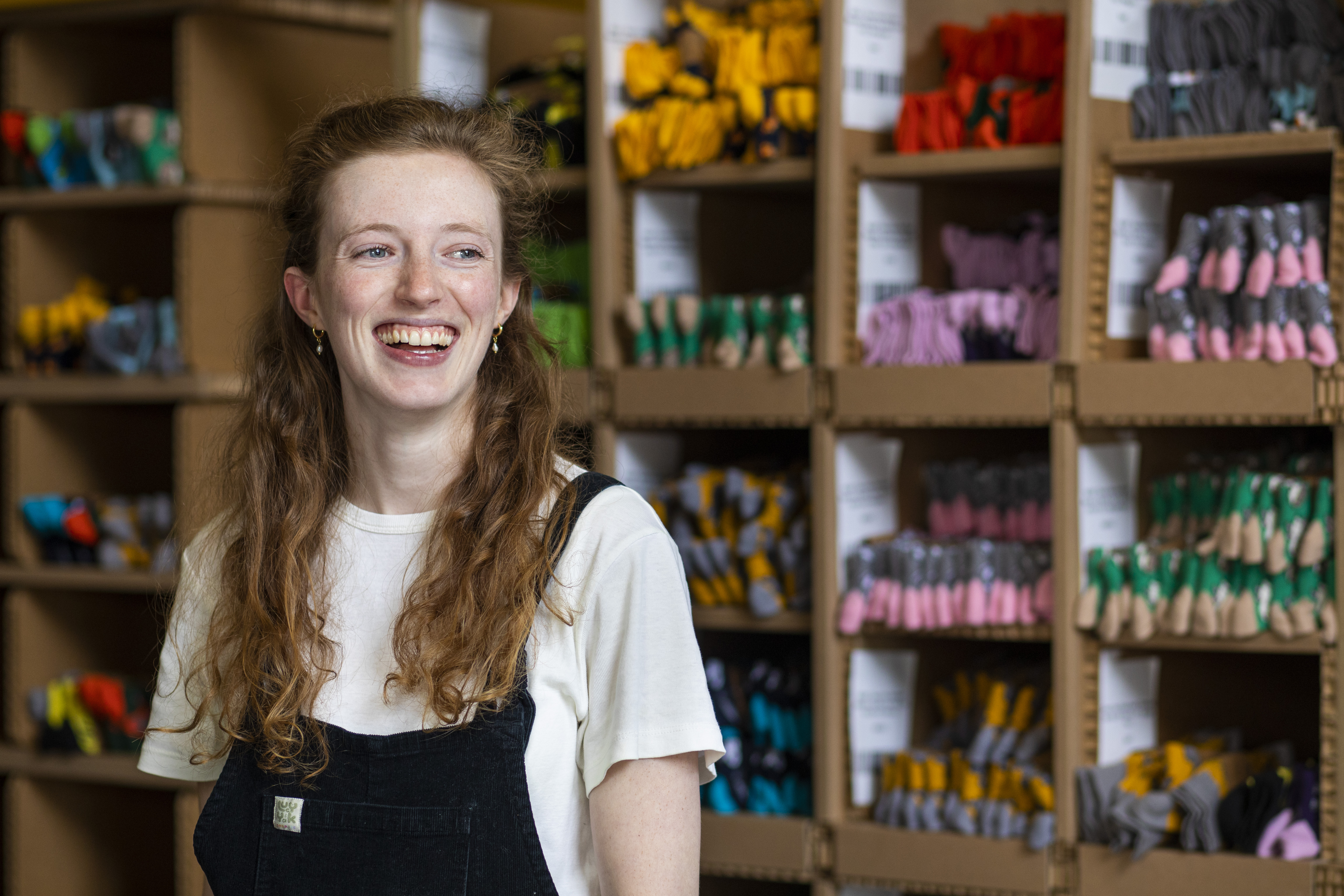 Lucy Jeffrey, Founder at Bare Kind
Why does Bare Kind exist?
"Bare Kind was founded in 2018 when I was working for a global bank - I realised I wasn't having enough of a positive impact on the world. When you work in a big corporation, you know you're a tiny cog in a big machine and you're not really making a positive impact.
So to change this, I started the brand! When I began, I was looking at all kinds of sustainable based products. Products such as recycled t-shirts, tote bags and reusable straws which were all really becoming a global trend. I also knew I wanted a charity model, and this is where I got the idea of donating 10% of the profit to charities."
So how did you land on socks?
"I started with the reusable straws, because of the video that was going around on the internet with the turtle in the ocean with the straw in its nose. From there, the turtle really became my mascot. I started with a turtle design, and I brought out the turtle socks, and they were linked to the Turtle Foundation. People loved the turtles and afterwards continuously asked me for further designs!
From a practical point of view, it's probably easier because with socks you can have one size that fits all. Obviously, there are different sock sizes, but it's way more standardised compared to all the different products I started with.
The other thing with socks is that most people wouldn't buy second-hand socks. With the rise in second-hand fashion as people try to cut down on how many clothes they buy, t-shirts can be re-used, but there isn't that market for socks. Socks have a high level of wear and tear so people buy new pairs quite often. If you're replacing them, Bare Kind gives people the option of doing a good deed too!"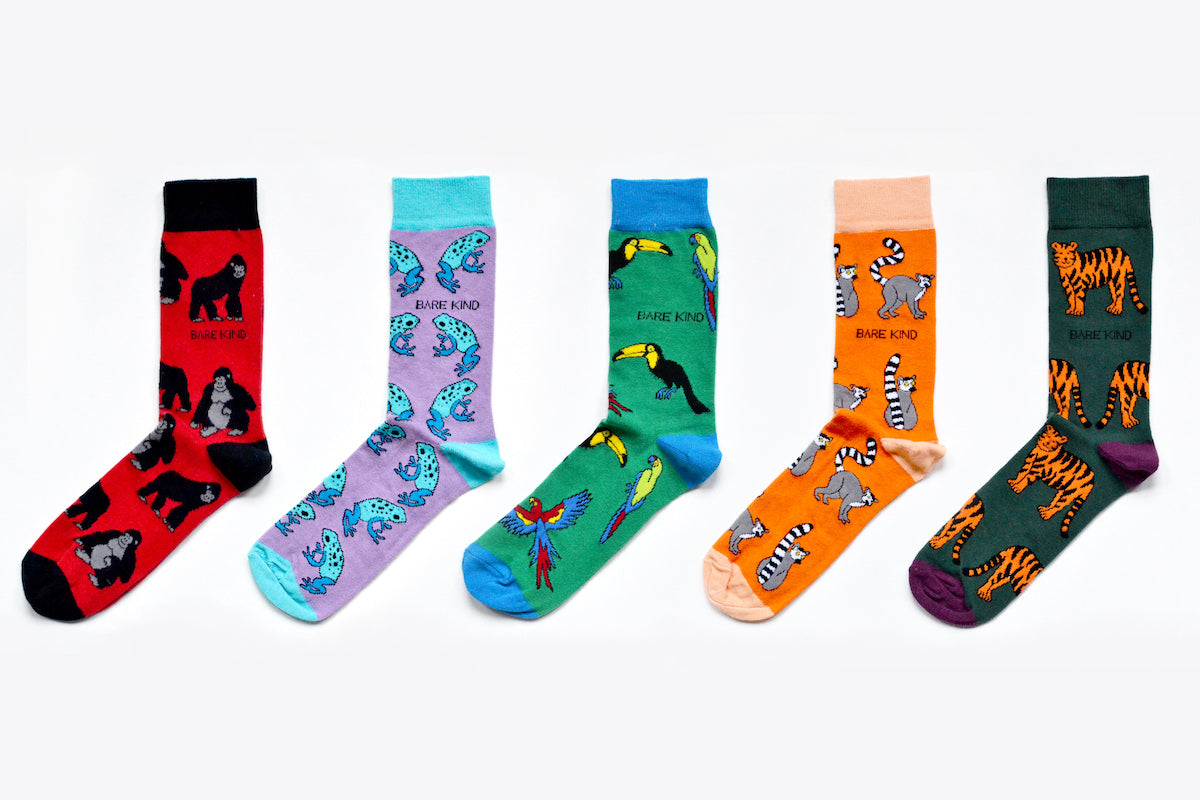 The socks come in a whole range of colours and designs
How are Bare Kind's socks different from others?
"Bare Kind socks are made out of bamboo - it's becoming a popular material for loads of products like underwear and bedwear. From a practical point of view, it's a very soft material, it's breathable, and has sweat-wicking thermoregulation. It's great for socks because it keeps your feet cool in summer and warm in winter.
From a sustainability point of view, Bamboo is extremely fast-growing. Fun fact: it has the Guinness World Record for the fastest growing plant in the world and because of this it's easy to replenish. When bamboo is harvested, the roots are not disturbed and because of its growth rate, it doesn't need any pesticides and uses far less water than if you're growing cotton.
I think the caveat, as with any other clothes, there are still light chemicals that are needed to produce the product. Nevertheless, compared to the standard cotton socks, they are fantastic and last a lot longer than cotton ones. They're also a lot softer, and this gets even better after many washes. The idea is that by having these high-quality socks, they're going to last a lot longer as well.
Beyond the socks themselves, we're having a huge impact with the charity matching scheme. This is also the most important element to me and, often, my customers. After we did some market research, we found that people really enjoy this co-benefit. For example, a customer who purchased the orangutan socks has said that they feel like they have adopted an orangutan which is a pretty cool impact to have from a relatively simple choice!"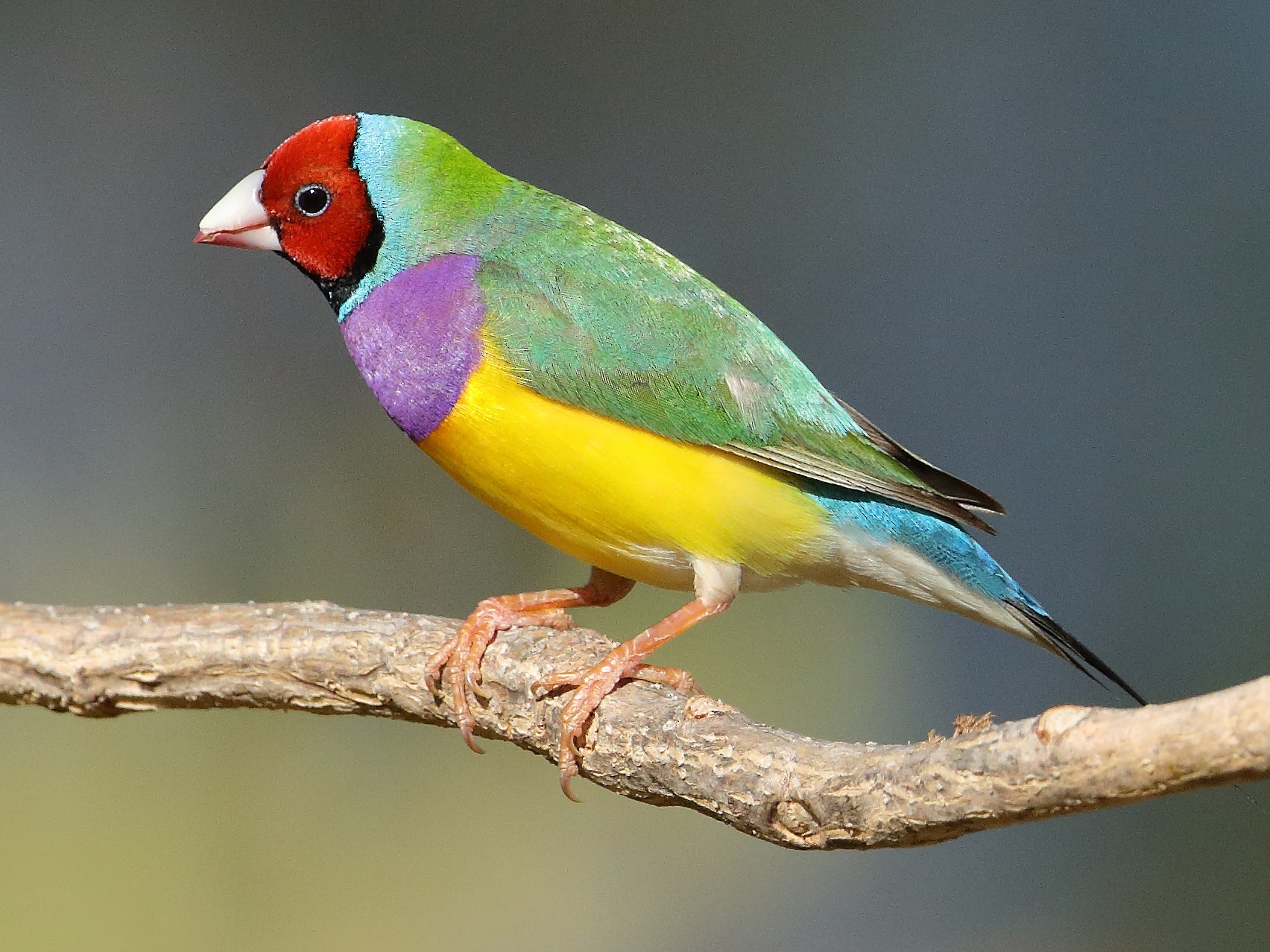 The beautiful Gouldian Finch will be featured soon!
What's next for Bare Kind?
"Definitely more charities! I want to be able to say that Bare Kind has raised over a million pounds for our charities. It would be an amazing achievement for Bare Kind! We've also got loads more sock designs coming, and we want to expand beyond the UK.
We've got some amazing animals coming soon. Our customers wanted to have pangolins, so the pangolins are now coming! Another one is a Gouldian Finch - a bird from Australia, and it's one of the most beautiful birds I've ever seen with it's many unique colours. Not only is the bird beautiful, but it's also an animal that not many people around the world know about. Being able to teach people about rare animals is also a mission I want to explore further.
In terms of making Bare Kind a global business, this will also have its own challenges but it also presents a great opportunity: one thing I'd love to do is to have more of an impact in our supply chain. I'm not the largest purchaser of socks from the family-run facility in Turkey, so I have limited bargaining power, but I'd love to help them become even more sustainable.
So watch out for more charities and lots of unique animals coming this year!"
---
Bare Kind is currently supporting 15 different animal charities around the world, and Lucy has said they plan to have up to 100 animal designs in the coming year!
Bare Kind allows all of us to have a positive impact with our everyday purchases - especially useful as so many of us enjoy gifting socks to our friends and family throughout the year. So, next time you're looking for the perfect gift, Bare Kind might just be the perfect solution!
You can check out all their latest designs at the website.
---