At Alectro, we're constantly on the lookout for sustainable alternatives to everyday items. This is an opportunity to share the brands that we love and that are making the world a greener place.
Queen Bee Wraps creates reusable wraps using beeswax which has natural antibacterial properties to keep your household products fresher for longer. Using them helps to encourage us to reduce single-plastic use in our homes.
It's shocking to see that despite many efforts to reduce and recycle, roughly 96 billion pieces of plastic packaging are thrown away by households in the UK each year.
We caught up with Bryden and Louise McKinnie, founders of Queen Bee Wraps, to discuss how they're helping their customers to reduce single-use plastics.
---
Why does Queen Bee Wraps exist?
Queen Bee Wraps' story began when Bryden joined the local community group to help restore Cockenzie House into community ownership and to develop a sustainable hub for the community. During his time there, he was introduced to beeswax wraps and shown how they can be used to keep the food fresh, and then be reused.
As Bryden used to be a beekeeper, he was very interested in all things "bee" and quickly learnt more about the different benefits including how the wraps can completely replace the need for single-use plastic wrappings such as cling film or plastic ziplock bags.
After this initial exposure to them, Bryden and Louise together recognised the potential of beeswax wraps was much more than just for food preparation. Some of the other uses include:
For carrying soaps and other cosmetics when you're travelling, without having to wrap them in another type of plastic,
For dairy products (like yoghurt, cream and cottage cheese), a beeswax wrap will keep the open contents fresher for longer. This is more important now as lots of the original manufacturers are typing to cut down on single-use plastic so often won't have a reusable lid,
When grating parmesan or other cheeses, wrap your block in a beeswax wrap so that you can maintain the grip and protect your hands,
When wraps have been used for a long time and are worn beyond repair, you can use these to wrap garden tools to protect them from rusting in your shed.
Ultimately, beeswax wraps are a versatile alternative to replace the single-use plastics that have dominated our lives for so long!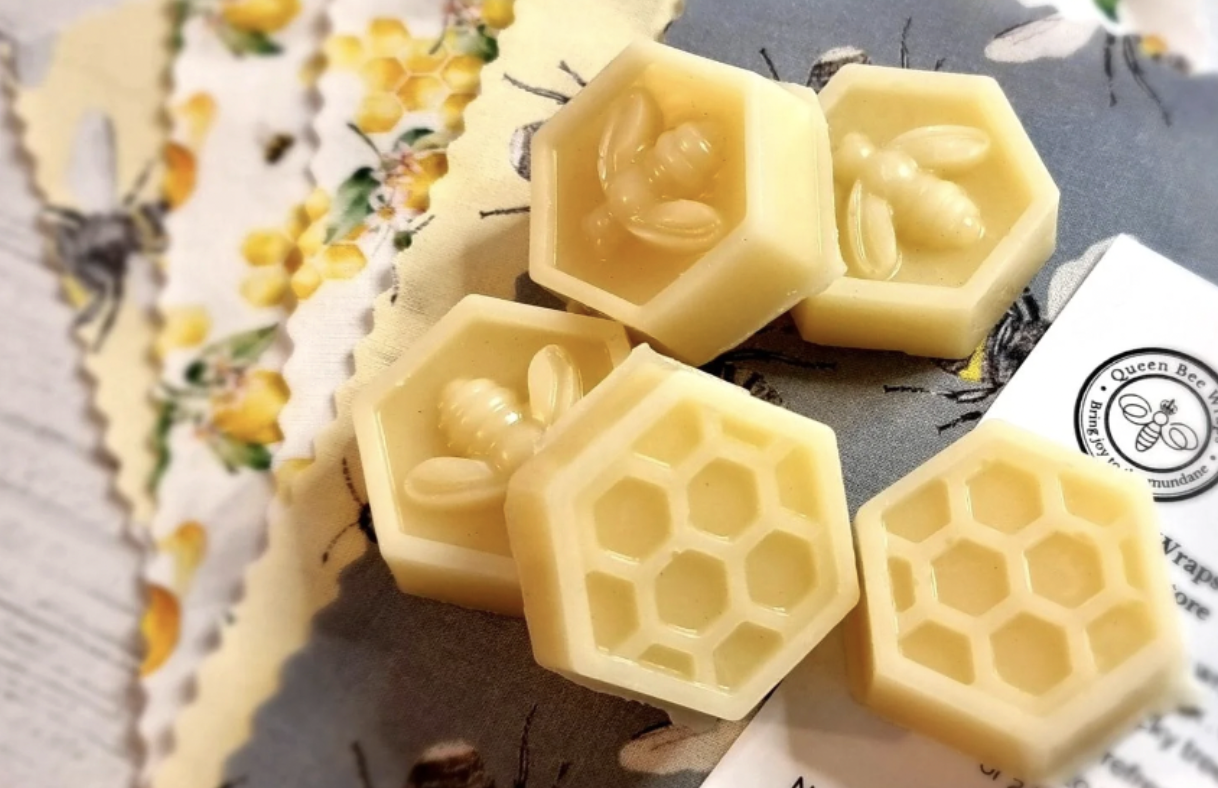 Queen Bee Wraps handmakes its products and offers refresher blocks when wraps become worn to promote reuse.
---
What does Queen Bee Wraps do best?
Products
One of the best things about Queen Bee Wraps is that the company is small, independent and that all products are completely handmade. As the products are made from quality ingredients (certified food-grade beeswax, natural tree resin and natural jojoba oil) they will last longer with no aromas compared to other beeswax wraps.
The wraps are designed to last a long time naturally, and with a bit of care, this can be extended further. Queen Bee Wraps offers DIY refresher blocks that you can easily use to add a new layer of beeswax to your cloth which will give it a completely new lease of life. The wraps can be used over and over again in each life to limit the use of single-use plastics.
Environmental Benefits
Queen Bee Wraps make all its products in the UK which keeps transport carbon emissions low. The company use a supplier for its beeswax which also teaches people how to keep bees and maintain biodiversity in the countryside. For the cloths used, the company use some international suppliers but try to keep it as local as possible. In addition, all products made are plastic-free and sent in recycled packaging to keep up with their no-plastic approach.
"We work with Make it Wild, a company from Yorkshire to improve our overall impact." Make it Wild aims to help maintain the diversity of wildlife on the planet through local environmental conservation efforts.
Make it Wild's mission statement is "It's not our aim to protect nature, it's our purpose."
---
What's up next for Queen Bee Wraps and what should we get excited about?
As companies understand more about the negative impact of overconsumption, including branded products, they're increasingly looking for more sustainable alternatives and beeswax wraps are one of the options. To encourage businesses to swap their gifts for low-impact ones, Queen Bee Wraps is offering bespoke labelling for its products so that companies can offer sustainable gifts to their customers, clients, and employees.
As the company becomes more popular, Louise is also looking to add more designs to its product range so customers have the best opportunity to showcase their sustainability choices in their own style!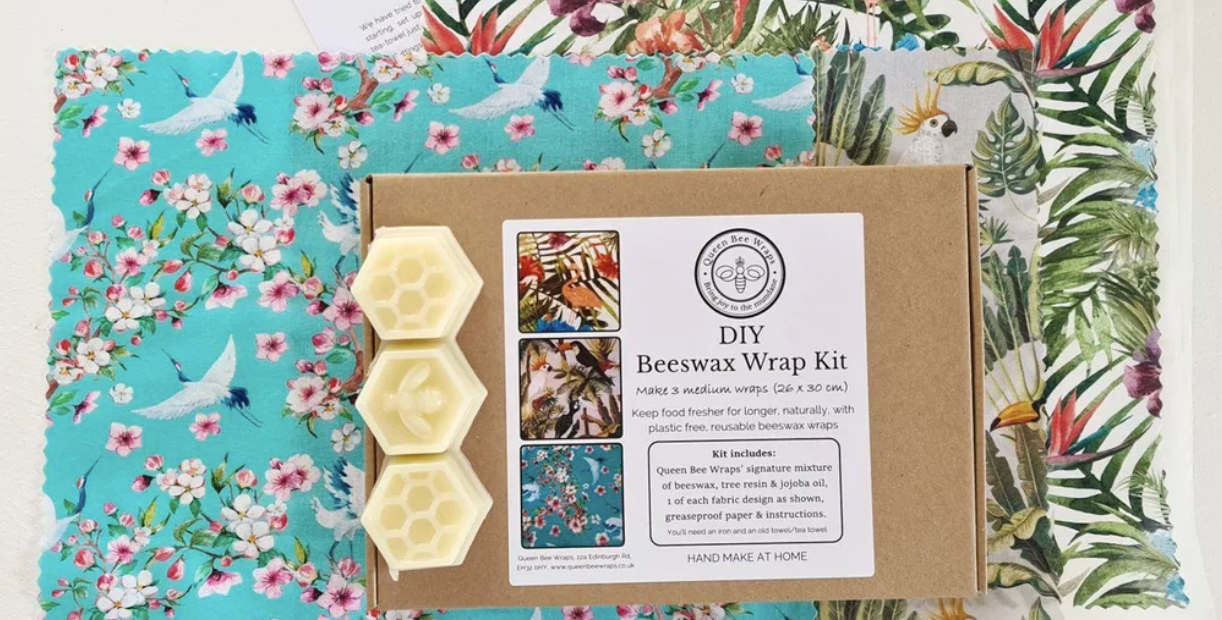 Queen Bee Wraps DIY Wrap Kit allows customers to try making the wraps themselves at home
---
Thanks so much to Bryden and Louise at Queen Bee Wraps for taking the time to talk to us about their sustainability journey and future.
If you're interested in finding out more, make sure to keep an eye on their socials @queenbee_wraps and visit their website for updates or more information!
Let us know who you'd like to see us cover next in our Brands we Love series by emailing hello@alectro.io